Applications
An innovative system with endless applications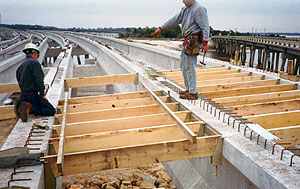 The BORG adjustable joist hanger system can be implemented in nearly any elevated concrete slab forming project. It is applicable to most form configurations, including high haunch conditions and reshoring projects. Our system is ideal for repetitious slab forming in:
Bridges
Tunnels
Parking ramps
Commercial buildings
New & rehab construction
Box culverts
Elevator shaft caps
Waste water containments
Grain transfer pits
and more!
The flexibility your project requires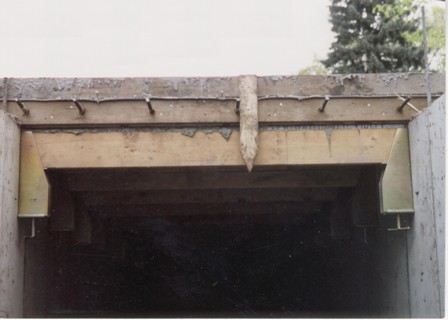 The BORG adjustable joist hanger system accommodates all common joist sizes. The system easily adapts to varying haunch conditions. By varying joists sizes and spacing, spans of exceptional depth and width can be formed without costly, time consuming undershoring.
BORG adjustable joist hanger components are lightweight and compact — no small nuts, bolts, or other easily lost parts. When you use the BORG system, you can focus on advancing your project, rather than worrying about your inventory of forming materials.
How the BORG Hanger system works
No special tools or training are required to use the BORG Hanger system, and setup is much faster than other forming techniques. Additionally, far less lumber is required than with conventional decking systems.
To prepare a concrete deck form using the BORG Hanger system, users typically space BORG Hangers on 2′ centers across concrete or steel beams. Wooden joists, up to 13′ long, are inserted into the adjustable hangers for the length of the deck. Joist dimensions of 2″ × 6″ through 2″ × 12″ are supported.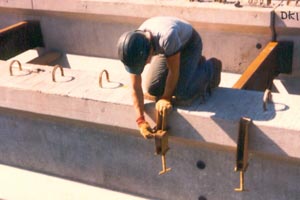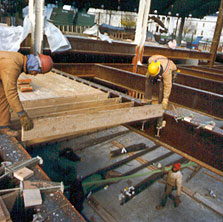 The hangers are adjusted to grade and plywood is nailed on top of the joists to complete the form. The concrete deck can then be poured.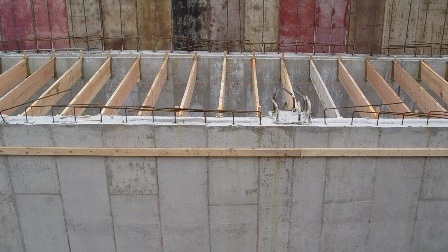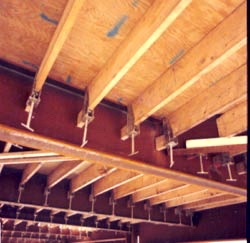 Teardown is equally fast and efficient. To remove the hangers, the adjustable lower unit loosens via the built-in threaded rod and slides out. The joist can be removed. Clean up is negligible. There is no sacrificial hardware. Hangers and wood joists are immediately available for reuse.